United Indians of All Tribes Foundation Labateyah Youth Home Facts
Founded January 1992, United Indians Labateyah Youth Home assists homeless youth in the transition from homelessness to permanent housing and self-sufficiency. Labateyah provides safe housing, life skills training and support to homeless young people of all backgrounds and ethnicities, ages 18-24, with a special focus on Native American youth.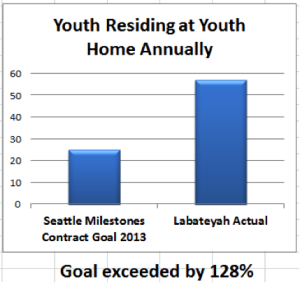 We have 25 beds, and serve between 80 to 100 youth each year.
Average length of stay is approximately 12 months.
Approximately 20-25% of our residents are Native American.
We accept all referrals through the King County Youth Housing Connection.
Labateyah Youth Home's winning balance:
Support and accountability translates to exceptional performance metrics:
In over two decades, Labeteyah has served over 1,900 residents, of whom over 1,200 have gone on to permanent housing destinations.

Homeless Shelters for Youth: The Need
Native American youth are disproportionately represented among those in poverty, homeless and educationally at-risk.
Nearly one-third of Native American youth live in poverty.
There are 500-2,000 homeless youth in Seattle every night.
Nearly 60% of Labateyah residents come directly from the street or emergency shelters.
One in eight seeking shelter at Labateyah are fleeing domestic violence.
The United Indians Labateyah Response
Labateyah Youth Home provides a safe and nurturing 25-bed dormitory-style home, plus support services and a structured program of accountability requirements:
Resident Support
    Healthy meals
    Assistance with employment goals
    Rent savings program
    Community involvement
    Educational assistance
    Computer access
    Access to medical care
    Access to counseling
Resident Accountability
Residents are required to develop personal self-sufficiency plans and actively participate in workshops on life skill topics:
     Financial literacy
     Apartment seeking
     Tenant rights and responsibilities
     Cooking and nutrition
     STD prevention
     Domestic violence awareness
     Anger management
     Drug and alcohol awareness
     Discrimination
     Smoking awareness and prevention
A level system of privileges is based on the number of hours each youth works and attends school per week, and the completion of in-house responsibilities.
History
United Indians Labateyah Youth Home, located at 9010 13th Ave. N.W., Seattle, was established in 1992 by founder Bernie Whitebear, who recognized that Native American youth were disproportionately represented in Seattle's homeless community. Whitebear established Labateyah ("the transformer" in the Lushootseed language) to provide a supportive transitional environment to move from homelessness and dependence to permanent housing and self-sufficiency.
United Indians Youth Home has many needs. Tax deductible contributions can be made to the United Indians of All Tribes Foundation, a registered 501c3, on our website.  http://unitedindians.org/involved_donate.html   Note "Youth home" on the giving form.  In-kind contributions, especially in the building trades are welcome. Our Wish List can be found here
Please contact our office at 206 781 8303 to get more information on our critical building and program needs.