Updated 07/1/16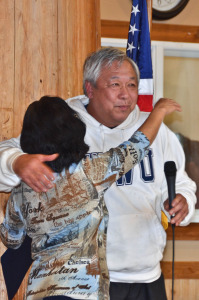 Youth Home Needs
United Indians Youth Home seeks to provide a safe and nurturing environment for homeless youth, combining Native American wisdom and ceremony with modern educational, medical and social services.
Dish Soap

Dishware (plates, cups, utensils, etc)

:The Youth puts strong efforts towards helping youth get back on their feet. When youth have successfully moved into their own housing , by providing dishware, cleaning supplies and towels, sheets, blankets when available.

This type of donation is needed on a regular basis

.
 Cookware (pots, pans, non-stick Skillet, Etc): Also needed to help youth who successfully move into own housing
Combination or Padlocks (any type – combo or key) – 25 needed
Matress Covers: (Size: Twin-Long) 25 needed
Blankets: (hyper allergenic, good quality) 25 needed
Stackable Lockers: 25 needed total
Wardrobes: 4 needed
Batteries: various sizes needed on regular basis
Laundry Detergent (powdered – unscented): Youth home goes through 40lbs/month
Razors: Youth home goes through 3 12-packs a month (36 razors/month)
Deodorant:
Toothbrushes & Toothpaste: Youth home could use a donation of 15 toothbrushes and bottles of toothpaste a month to ease oral hygiene costs for youth
Kitty Litter: The youth home provides an art space for homeless youth to expressthemselves through art, including painting. Some paint has expired and to safely dispose of the paint the youth home needed kitty litter.
Daybreak Star Facilities
(many of the following items are also needed for pow wow)
Toilet Paper (Jumbo Roll)
Industrial Hand Towel Rolls
Foaming Pink Hand Soap
Batteries (D, AA, AAA): Batteries are needed for Mics; for events. For flashlights, bathroom soap dispensers, arrisols scents and much more. Facility goes through at least a jumbo pack of AA batteries/month.
Flashlights (LED)
Reflective Vests: Green prefered
Trashbags (Large): Trashbag are needed for building and special events such as the upcoming pow wow. We would like to keep our beautiful building and facility clean.
Light Bulbs – (Hollogen 100 watts, 150 watts): for outside parking lots, flood lights, building replacement lights.
Extension Cords
Storage area
Fencing (5×8 panels + fence door): to build a Propane storage area. Propane is used often for cooking outdoors for special events and United Indians would like to build a safe storage area, so we are able to continue providing this option to our community and guests.  
Propane burners: often some families/community members are unable to bring thier own propane burners and we would like to make the option of cooking in our beautiful outdoors area available to all our communtiy members and guest who use our facility. 
Sawdust/wood chips: Every year United Indians adds more wood chips to the playground to maintain the safety of our preschool children and community youth who use enjoy the park.
Preschool Needs
"Children are the heart of our community and we are overjoyed to welcome a preschool back to Daybreak Star. We are committed to ensuring all of our children have a strong start in life and school by offering culturally-relevant early childhood education to the urban Native community"
Many of these items support the children's creativity either directly or indirectly. Creativity supports self-esteem in our children. Be a supporter of positive self image, self-esteem and the future of our community.
Some of the items to support fully stocked creative classroom for next year are:
Crayola Washable Paint
Paint brushes
Laundry Detergent (Powdered, unscented)
Cream of Tartar: key ingredient in making playdough with the children! The children LOVE making thier own playdough,it invokes thier creativity when picking thier own colors and being able to show and play with something they have created themselves.
Foster Care Needs
Updates in progress
Elder Program Needs
Provides weekday nutritional lunches (4 days a week) and transportation, education and other activities involving nutrition counseling and health care.
Gas Cards to enable volunteers to use van to take Elders to appointments
Vista Gift Cards: to purchase nutritional lunches for Elders
Bingo Prizes (reading cards, notepads, water bottles, sugarless Candy, Native Coffee Mugs): Volunteers hold bingo games with elders for social and community relationship building in program. Donated items for bingo prizes are appreciated