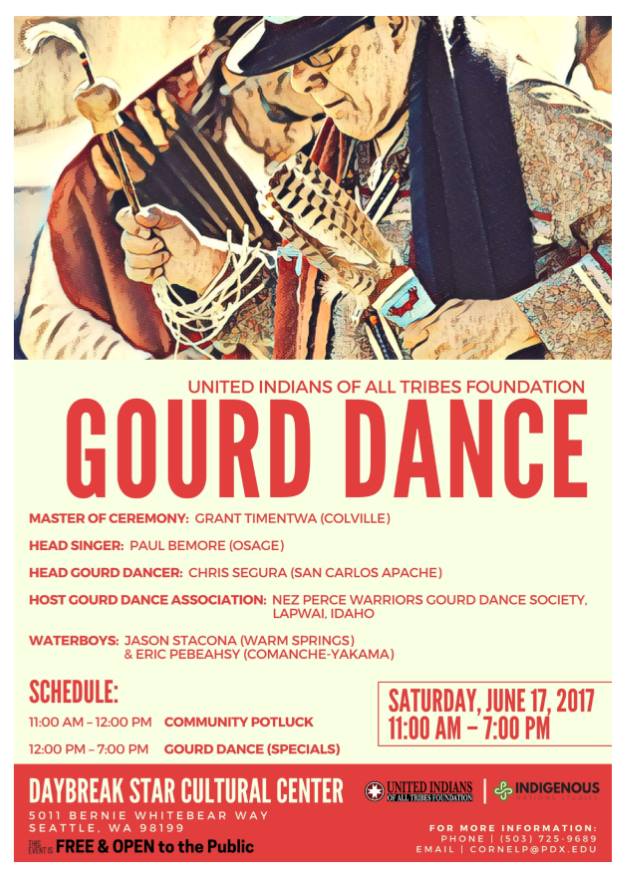 The Gourd Dance originates from the Kiowa Nation of the Southern Plains, or what is now called Oklahoma. The songs and dance were given to the Kiowa people by The Red Wolf, to honor their Warriors when returning from battle. To this day the singers and dancers continue to honor The Red Wolf by howling at the end of each song.
In modern times, gourd dances are held across Indian Country to honor our Veterans, families, and tribal leaders. Dancers must be inducted into Gourd Dance Societies in order to dance and carry on the tradition. The dancers wear a red & blue sash across the shoulders, and carry either a gourd or a tin salt shaker which they shake in rhythm with the drum.
Many dancers and singers will be travelling here from very long distances, please join us in making them feel welcome to Duwamish Territory, known as Seattle!
For more info or questions contact Dr. Cornel Pewewardy: cornelp@pdx.edu