Native American Cultural Center and Gallery in Seattle's Discovery Park.
Come Tour Our Beautiful Facility + Permanent Collection
We have lovely permanent exhibits and our Sacred Circle Gallery changes regularly, featuring local and national native american artists.
Visits to Daybreak Star are Free of Charge, but we do have a Donation box, and ask that you help us support the maintenance of our center and collection. Tour guides are available for purchase when you arrive.
Hours, Location and Directions
Have seen that in every great undertaking
it is not enough for a man to depend
simply upon himself.
– Lone Man (lsna-la-wica), Teton Sioux
01. Bernie Whitebear Tribute
The Gallery Tour begins with the tribute to Bernie Whitebear, Founder, UIATF. When coming from the parking lot, it is to your left, past the offices.
02. Deer Hunt, 1977
Montoya's mural is from the Hunters Fraternity, or san'ilialwe, and focuses on the deer hunt.
03. Man and Killerwhales, 1977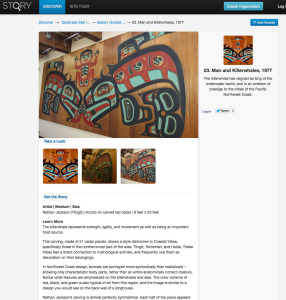 ---
Completed in 1977, the Daybreak Star Cultural Center is described by its parent organization, the United Indians of All Tribes as "an urban base for Native Americans in the Seattle area." Since then, it's become a hub of activity for Native peoples and their supporters locally, nationally, and internationally.