Sacred Circle Gallery – Native American Art
Sacred Circle Gallery holds Daybreak Stars curated exhibits of Native American art, featuring contemporary and traditional Native American Art by a wide range of internationally recognized, and local artists.
In addition to our Gallery, the center's permanent collection is noteworthy.  A visit to Daybreak Star Center should be sure to include both exhibits.
Sacred Circle Gallery Current Exhibition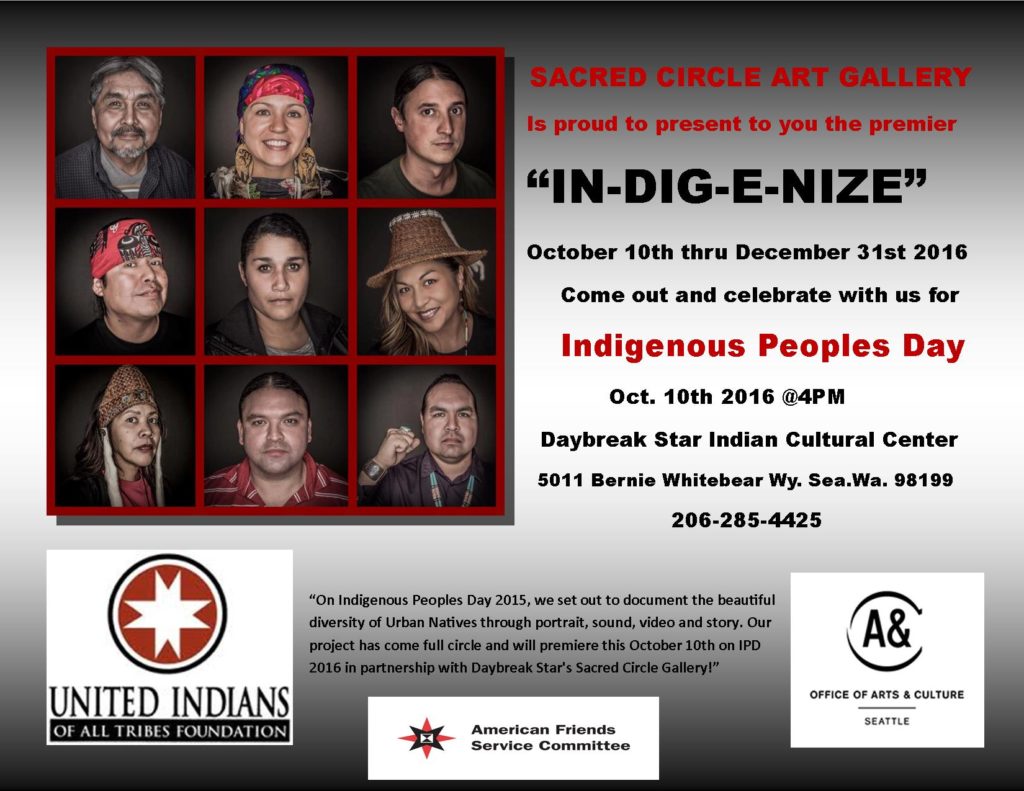 IN-DIG-EN-IZE
On Indigenous Peoples Day 2015, Tracy Rector and Mel Ponder set out to document the beautiful diversity of Urban Natives through portrait, sound, video and story. The project has come full circle and premiered on October 10th on Indigenous Peoples Day Celebration 2016 in partnership with Daybreak Star's Sacred Circle Gallery! This show will run through December 31, 2016 with new art being added till it's over.
Gift Shop
Sacred Circle Gallery has a wonderful Gift shop with Native American made consignment pieces and original art, as well as books, and other items.  Stop by to browse our amazing collection.
Permanent Collection
In 1975 the City of Seattle's 1% for Art Program allocated $80,000 for the Daybreak Star Center for an original collection of Native American Art across cultures. Native American artists were selected through a national competition to create a group of works representative of contemporary India and Alaskan Native art.  The Daybreak Star Arts Center opened to the public in 1978.

Self Guided Tour of Daybreak Star Indian Cultural Center:
The position of Gallery Manager for 2015-16 is supported by the "Art Means Business Grant" from the City of Seattle department of Arts and Culture.