Daybreak Star is a cultural home for urban Indians of all tribes.  We strive to provide cultural connections through art, music and dance for all peoples of all ages.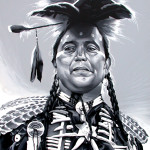 Cultural Activities:
Seafair Indian Days PowWow
Sacred Circle Gallery
Permanent Collection
Canoe Project
Native American Art Mart
Everything on earth has a purpose,
every disease an herb to cure it,
and every person a mission.
This is the Indian theory of existence
– Mourning Dove  – Salish
Daybreak Star Native American Art Permanent Collection
Overview:  Gallery Hop: Sacred Circle Gallery 7/5/2007  9:26
In 1975 the City of Seattle's 1% for Art Program allocated $80,000 for the Daybreak Star Center. Native American artists were selected through a national competition to create a group of works representative of contemporary Indian and Alaskan Native art. The Daybreak Star Arts Center opened to the public in 1978. In addition to the permanent collection, Sacred Circle Gallery features rotating exhibits.