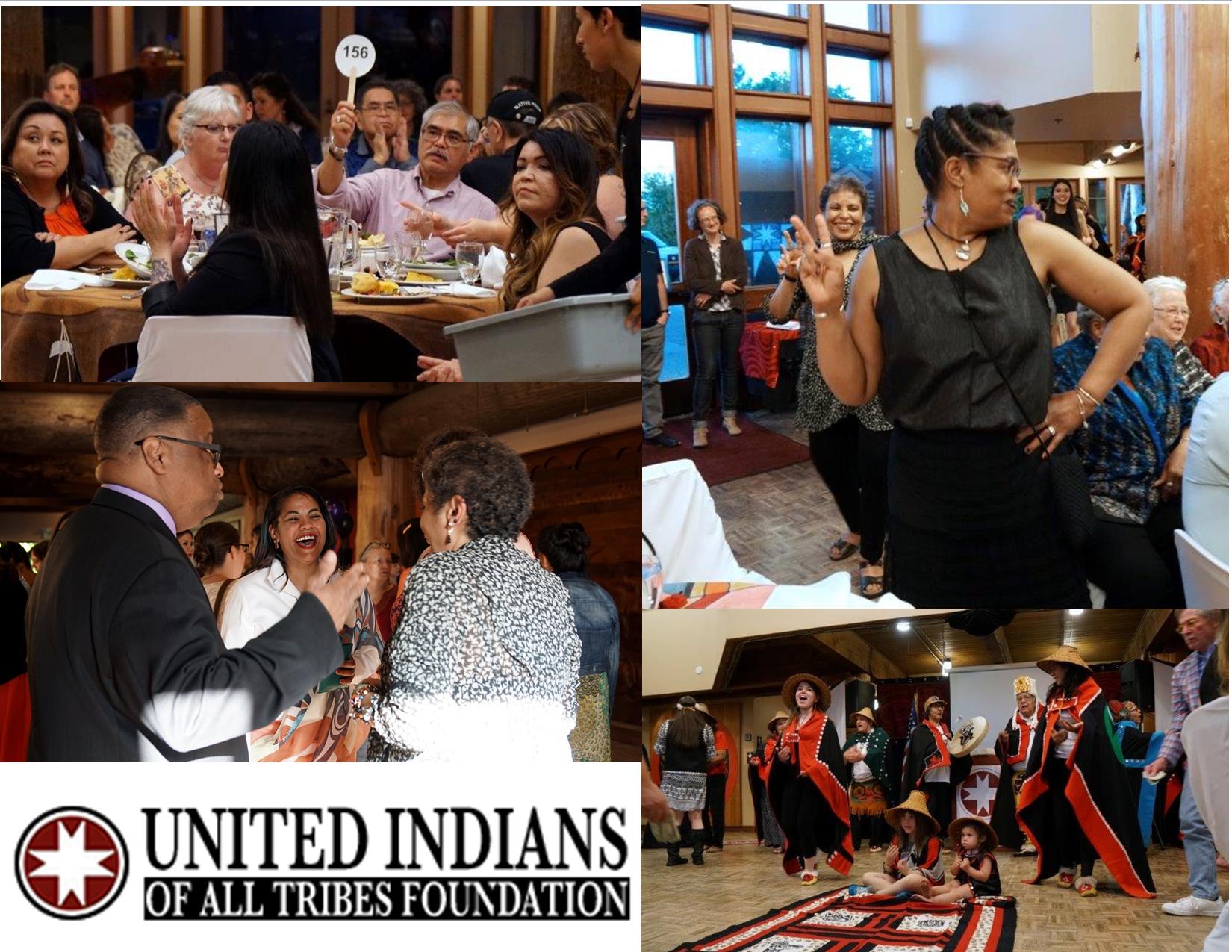 Event details
Saturday | April 21, 2018
5:00 pm - 8:00 pm
5011 Bernie Whitebear Way Seattle, WA 98199
206.829.2219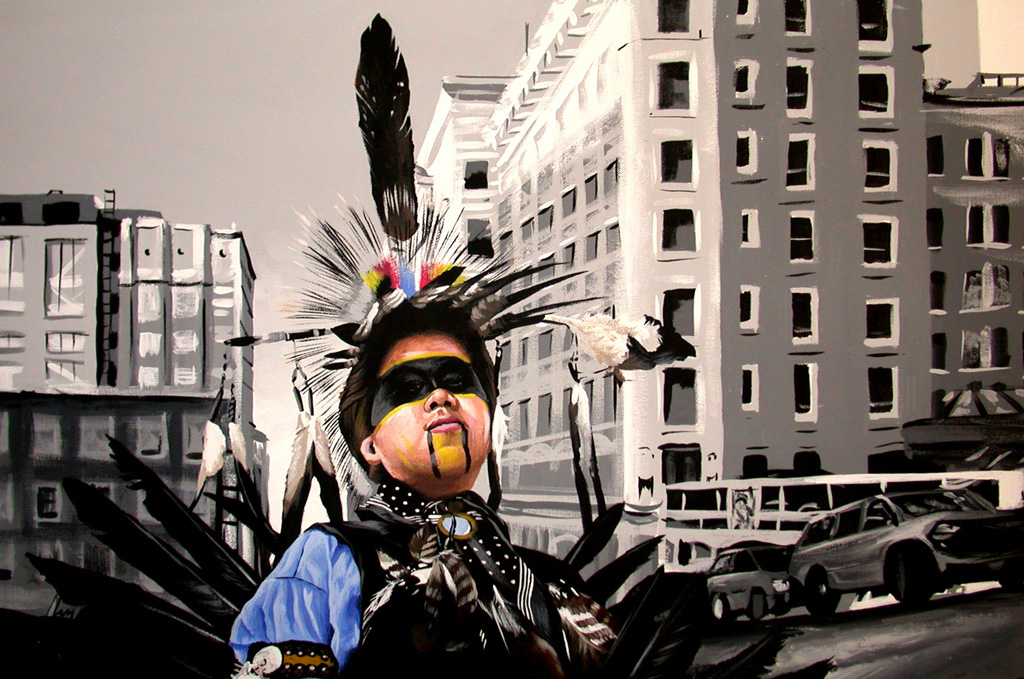 TICKETS to Native Life in the CITY
Please join United Indians of All Tribes Foundation for our annual benefit gala. Native Life In The City: Walking in Two Worlds will be held at the Daybreak Star Indian Cultural Center in Discovery Park on April 21, 2018 in support of Daybreak Star and United Indians of All Tribes Foundation.
Since 1970, nonprofit United Indians has served low-income Native Americans of all Tribes from throughout the Puget Sound area. We are honored to continue upholding founder Bernie Whitebear's mission to provide educational, cultural, and social services that reconnect Indigenous people in the Puget Sound region to their heritage by strengthening their sense of belonging and significance as Native people.
Dinner, Awards, Silent Auction and Fun
Enjoy a cocktail hour and hors d'oeuvres and bid on original handcrafted jewelry, art and more by local artists at the silent auction.
Experience an inspired banquet dinner by renowned Native chef Ramon Shiloh of Portland, Oregon, a modern caretaker of natural Indigenous cuisine (Vegan and vegetarian options are available), followed by a dessert dash. We will also be honoring local notables with the Bernie Whitebear and Contributor of the Year Awards.
Register today to reserve your seat, limited seating is available.
All proceeds directly fund the critical social, educational, and cultural services United Indians provides to American Indians and Alaska Natives of all tribes and ages throughout the Puget Sound area.
Tickets
Ages 21 and over only, please. Purchase your tickets before March 23 for Early Bird Specials: $100 individual tickets or $750 for an 8-person table. After March 23, tickets are $125 individual tickets or $875 for an 8-person table. Tickets available at unitedindians.ejoinme.org/nativelife2018
Bernie Whitebear Award Nominations
Bernie Whitebear dedicated his life to celebrating traditional and modern Indian ways and to challenging outsiders' perceptions. He is best remembered for leading the takeover of the land where the Daybreak Star Indian Cultural Center now sits, and for founding United Indians of All Tribes Foundation to ensure that the urban Indian community will always have a cultural home.
In Bernie's honor, each year we recognize one individual who has made a difference in our community through perseverance, commitment, passion and love for our people and community. Thank you for your nomination.
Thank you to all who made a nomination by our March 9, 2018 deadline!
You can play an important role in sustaining our programs and Daybreak Star Indian Cultural Center, by supporting our Native Life In The City Dinner & Auction on April 21, 2017.  This helps us continue to provide services from our youngest members to our oldest in all of our programs. Here are the programs and events you are supporting:
Daybreak Star Preschool
Foster Care
Labateyah Homeless Youth Home
Native Workforce Program
Ina Maka Family Services Program
Elders Nutritional Program
Homeless Prevention
Seafair Indian Days Pow Wow
Indigenous Peoples Day
PLATINUM $10,000
Corporate logo on slide show during fundraising dinner at event
Prominent placement of corporate logo on all promotional materials
Corporate logo on website for 1 year
2 Facebook featured posts on our Daybreak Star facebook page
1 table of 10 at fundraising dinner
Show your brochures at event
Hang banner
Complimentary rental of Daybreak Star Indian Cultural Center building rental
GOLD $5,000
Prominent placement of corporate logo on all promotional materials
Corporate logo on website for 1 year
1 table of 8 at fundraising dinner
1 Facebook featured posts on our Daybreak Star facebook page
Show case your brochures at event
50% off of Daybreak Star Indian Cultural Center building rental
SILVER $2500
Prominent placement of corporate logo on all promotional materials
Corporate logo on website for 1 year
Show case your brochures at event
5 seats at fundraising dinner
BRONZE $1000
Prominent placement of corporate logo on all promotional materials
Corporate logo on website for 1 year
2 seats at fundraising dinner
CLICK HERE to be a 2018 Native Life In The City Sponsor
2018 Gala Sponsors 
Muckleshoot Indian Tribe – Gold Level Sponsor
2017 Gala Sponsors
Muckleshoot Indian Tribe – Gold Level Sponsorship
Snoqualamie Tribe- Gold Level Sponsorship
Catholic Community Services – Gold Lever Sponsorship