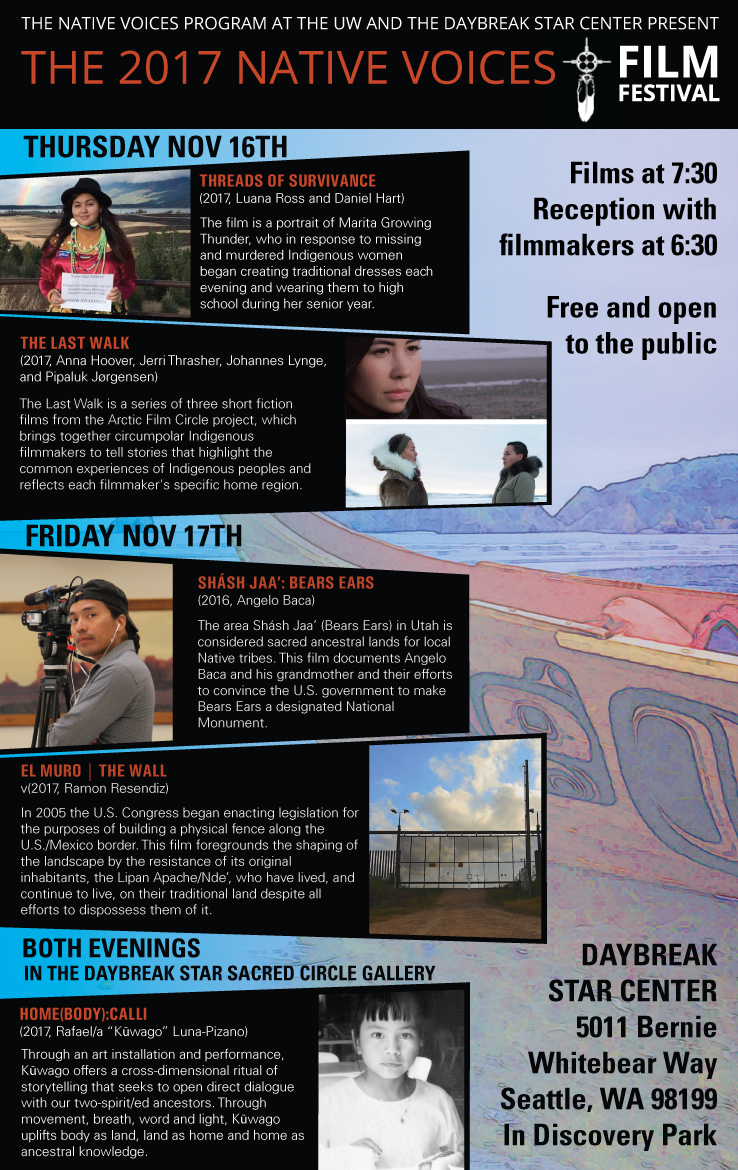 Event details
Thursday | November 16, 2017 to Friday | November 17, 2017
6:00 pm - 9:00 pm
Daybreak Star Indian Cultural Center 5011 Bernie Whitebear Way Seattle, WA 98199
2017 Native Voices Film Festival
When: Thursday and Friday, November 16th and 17th. Films begin at 7:30, with a reception, art installation and… performance beginning at 6:30.
Where: Daybreak Star Cultural Center
Free and open to the public – Filmmakers will be in attendance
Thursday evening, November 16th – Stories of Loss and Survivance
Threads of Survivance (2017, Luana Ross and Daniel Hart)
The film is a portrait of Marita Growing Thunder, who in response to missing and murdered Indigenous women began creating traditional dresses each evening and wearing them to high school during her senior year.
The Last Walk (2017, Anna Hoover, Jerri Thrasher, Johannes Lynge, and Pipaluk Jørgensen)
The Last Walk is a series of three short fiction films from the Arctic Film Circle project, which brings together circumpolar Indigenous filmmakers to tell stories that highlight the common experiences of Indigenous peoples and reflects each filmmaker's specific home region.
Friday evening, November 17th – Stories of Indigenous Land and Resistance
El Muro |The Wall (2017, Ramon Resendiz)
In 2005 the U.S. Congress began enacting legislation for the purposes of building a physical fence along the U.S./Mexico border. This film foregrounds the shaping of the landscape by the resistance of its original inhabitants, the Lipan Apache/Nde', who have lived, and continue to live, on their traditional land despite all efforts to dispossess them of it.
Shásh Jaa': Bears Ears (2016, Angelo Baca)
The area Shásh Jaa' (Bears Ears) in Utah is considered sacred ancestral lands for local Native tribes. This film documents Angelo Baca and his grandmother and their efforts to convince the U.S. government to make Bears Ears a designated National Monument.
Both evenings in the Daybreak Star Sacred Circle Gallery
Home(body):Calli (2017, Rafael/a "Kūwago" Luna-Pizano)
Through an art installation and performance, Kūwago offers a cross-dimensional ritual of storytelling that seeks to open direct dialogue with our two-spirit/ed ancestors. Through movement, breath, word and light, Kūwago uplifts body as land, land as home and home as ancestral knowledge.
12th Frybread Native Taco sales starting at 4pm on 11/16 and starting at 11am on 11/17 in the Lounge at Daybreak Star.