Center for Native Americans in the Seattle Area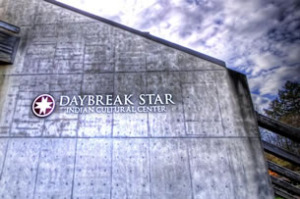 United Indians of All Tribes Foundation (UIATF) was founded to serve as a focal point for the renewal and regeneration of Native Americans in the Greater Seattle area and beyond.
Daybreak Star Indian Cultural Center is Our Home
United Indians MISSION
Provide educational, cultural and social services that reconnect indigenous people in the Puget Sound region to their heritage by strengthening their sense of belonging and significance as Native people.
What's New at United Indians
Dear United Indians Community, Friends and Employees, The UIATF Board of Directors is pleased to announce that we have appointed Joey Gray, (Métis, Okanagan, European) as Executive Director of United Indians of All Tribes Foundation starting in April 2015. Ms. Gray is a consultant, organizer and lifelong activist. She has

Ina Maka Parenting Class Starting April 10 for 8 weeks. For all parents and caregivers. Attachment and bonding skills to create a stronger connection to children.